Coming-of-age movies that changed me
Few days back I wrote on my Instagram about my favourite genre in movies.
//My Favourite Genre//⠀ ⠀ Few years back, to get over a painful break up, I started searching for inspiring movies. Well, there were tons of movies about hardships in a job, mastering a sport, poverty, people at war, stories about survival, gangsters, and conquering and changing the world. All those were undoubtedly great movies, I can't deny that. But I was just a simple 20-something girl, sitting on my couch trying to ease the pain, trying to understand the world around me a little better and none of these movies were relevant to me in any way. I mean let's be realistic here, I'm never going to join army, sports is not my strongest suit, I'm completely okay with my job, and I don't think my main goal in life is to change the world. Even though these are great stories about great people, I don't think they are meant for me. And that's how I always saw movies as some story that I cannot be a part of.⠀ ⠀ It all changed when I came across a genre in movies and literature called coming-of-age. These movies and books are about average young adults who are lost in life, they don't fit in anywhere, they don't know where they belong, they are struggling with their own identity and relationships around them. They are unsure if life is even worth all of this struggle. I don't know about you but that exactly resonates with me. You can literally witness the growth of our protagonist from a young adult to an actual adult and that's the best part about it.⠀ ⠀ In the end, you see, we never stop coming-of-age, and that's why I'll forever be grateful for these stories that somehow have helped me to be the person I am today.⠀ ⠀ #allthebrightplaces #jenniferniven #yabooks #bookphotography
A post shared by Smita Tarawade 🌻 (@theclumsyvixen) on Feb 28, 2020 at 8:47am PST
Well nobody asked, but here are my most favourite coming-of-age movies that has supported me in my dark times and has helped me become the person I am today.
The Breakfast Club
Society is going to stereotype you, put you in a box. It doesn't has to be this way. There's no one single thing that can define you. There will always be more to you than what people can see.
The Perks of being a Wallflower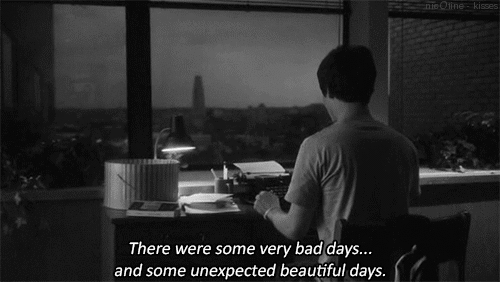 You can be a shy introvert, you can suffer from a mental disorder but you're more than that. Life is more than that. You have every right and chance to change your life. It doesn't has to be a sad story.
Spectacular Now
You can avoid your responsibilities so you won't make a mistake, you can push people away so they won't hurt you, you can keep living in denial but sometimes you have to accept that there is going to be a tommorow and a day after tomorrrow, and many more days, and take a step forward to change them for better.
Juno
You're going to fuck up (literally). You're going to make mistakes that can potentially ruin your life, but you can always choose to stand up for yourself and for your decisions even though they don't fit our societal norms.
Ladybird
Boyhood movie is for guys, what Ladybird is for me. You might not have good relationship with your parents, with your differences, perspectives, opinions, but someday you'll learn to understand why they are the way they are and accept it. Oh! And make some more mistakes in between.
Call Me by Your Name
What's a bigger life lesson than a heartbreak? It teaches you so much about ourselves, the world around us and human existence.
Dead Poets Society
You don't have to pursue what everyone is, you can choose a path less traveled and not follow the herd. You can always dare to be extraordinary. All you need is a little courage and the rest would be history.
Submarine
I cannot tell you enough how visually pleasing and funny this movie is. It made me realise that you cannot fix everything, you can try, but most of the times you have to let go and wait life to unfold itself.
The Diary of a Teenage Girl
This movie gave me huge validation about all the shit I have done in my teenage years (she does far worse). Sometimes forgiving yourself and starting new is the only option.
Good Will Hunting
Something inside you seems to be healed when Robin Williams keeps repeating, "It's not your fault", because what happened to you when you were a kid is never your fault. You can have the ability to change the world but you can always choose to change your world instead.